This green bean casserole recipe uses French's Cheddar Flavor French Onions and an extra zip from A-1 steak sauce. Serves 10-12 people each one half cup servings. It has the absolute best flavor.
List of Ingredients
Two 16 ounce bags of fresh frozen cut green beans, cooked to your preference or 4 cans of cut green beans(drained).

Two cans of condensed cream of mushroom soup
One soup can of water
One large can of French's Cheddar Flavor French Fried Onions
One Tbsp soy sauce
One Tbsp A-1 Steak Sauce
One Tbsp Worcestershire sauce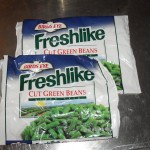 Instructions for preparation:
Cook the frozen green beans. Typical 1000 watt microwave cooking time is 15 minutes on high from frozen. Cooking time vary. Test beans to assure they are fork tender. An equal amount of canned beans can be substituted.
In a covered casserole, large enough to hold the ingredients, empty the contents of the condensed soup using only one can of water for the two cans. For a creamier gravy, use whole milk or half and half.
Add the Worcestershire, A-1, and soy sauces
Stir in the beans to evenly coat them with soup gravy
Mix in half of the can of Cheddar French onions.
Cover the casserole and bake 45 minutes in a 350 degree oven. After thirty minutes remove the lid and spread the remaining french onions on top of the casserole. Return to the oven for another 15 to 20 minutes, or until the french onions just begin to brown.
Remove from oven and let stand for 15 minutes, then serve.
More Thanksgiving Day Dinner Recipes:
Shopping List For Thanksgiving Dinner